Profile of John DeBrito
In his early professional career, John created a unique and innovative promotional program that promoted company products in a unique way throughout the U S A. He was featured in national publications and media. He eventually received the American Marketing Association Award for Marketing Excellence for his unique marketing ideas. John got married and moved to Denver Colorado and worked for one of the major radio stations In promotions. Later on, John started a successful real estate career.
He was first hired by a national home Builder, Pulte Homes Corporation. Pulte saw his unique and energetic style of presenting and hired him for an innovative program for marketing and selling new homes throughout the Denver metropolitan area. As one of their exclusive real estate sales associates, John received detailed and extensive training in construction techniques, mortgage programs, counseling buyers and selling negotiations. In a very short time, John became one of the top salesmen for the program and received numerous awards.
John was then invited by Metro Home finders to provide his insight, support, and marketing contributions as a member of the staff. John helped train agents in sales and computer real estate software. The company grew quite quickly and John became the number one real estate broker for the company. Within a short while, John developed a reputation in the Southwest Denver Metropolitan area as a hardworking and a top producing broker. Because of John's success, he was offered a position at one of the biggest real estate companies in Denver,
Frontier Real Estate Better Homes and Gardens. This company had 1200 active agents. John decided to accept the challenge of working for a big real estate company that had a major role in the Denver metropolitan area. In his position at Frontier, John listed and marketed homes worked with real estate investors and learned real estate tax exchange techniques. John also began mentoring new agents. For his accomplishments, John received the multi-million dollar top producer silver dollar award for production which put John in the top 10% of all agents in the Denver area.
The company was eventually sold and one of John's colleagues asked him if he would like to help open a Re/Max franchise. John agreed and became one of the active brokers and was awarded entry into the Re/max Executive Club for his outstanding sales performance and achievements in the real estate profession. Another opportunity to enhance his skills as a realtor was offered to John so he moved to a Metro Brokers office and eventually, decided to use his experience, wisdom, knowledge, and expertise to provide maximum benefit to The public via establishing two companies, SOLD Real Estate Company and  RealityClasses.com
These companies are innovative and have been designed to meet the needs of the public. John can offer the public quite a lot now by customizing marketing, education through Reality Classes and be promoting more toward his real estate clients and the public needs than the big franchise companies. In the past 34 years of being in real estate John works under these beliefs:
 Be professional, know your business, be better than your competition and work hard for your clients!
                                           Phone 303-978-0928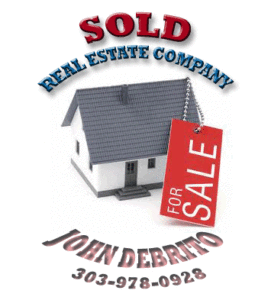 Fax 303-973-1233